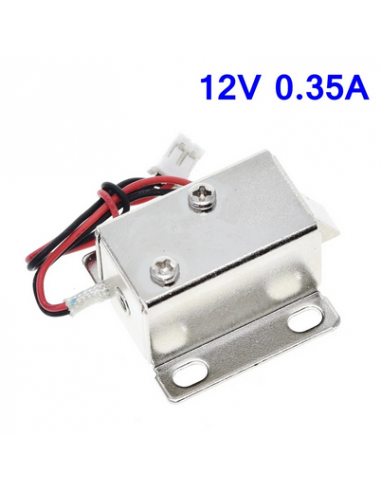  
Electric Door Lock - DC 12V 0.35 mA Open Frame Type Solenoid
This solenoid in particular is strong, and has a slug with a slanted cut and a good mounting bracket. It's basically an electronic lock, designed for safe or door.
Features:
12VDC (you can use 9-12 DC volts, but lower voltage results in weaker/slower operation)
Draws 650mA at 12V, 500 mA at 9V when activated
Designed for 1-10 seconds long activation time
Max Dimensions: 41.85mm x 53.57mm x 27.59mm
Dimensions: 23.57mm x 67.47mm x 27.59mm
Wire length: 222.25mm
Note: To drive a solenoid you will a power transistor and a diode, check this diagram for how to wire it to an Arduino or other microcontroller.