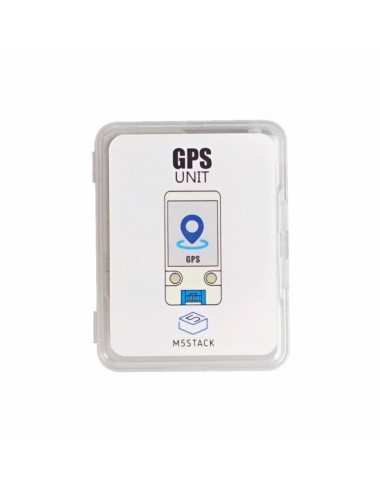  
Grove Mini GPS/BDS Unit (AT6558) M5stack
GPS is an M5Stack Unit that integrates a AT6558 navigation chip and a MAX2659 amplification chip which is used for amplifying the antenna signal.
AT6558 is an high performance chip that supports many types of satellite navigation systems, able to receive satellite signals on 56 channels GNSS signal from 6 satellite navigation system, joint location, navigation, timing and more.
The module is able to obtain accurate global location information, quick and accurate positioning for anywhere in the city, in the canyon, under the overhead and inside the car.
The module can be widely used in vehicle monitoring, bus reporting, car navigation, onboard navigation, notebook navigation and other products.
You can plug it into port C on M5core via GROVE cable, which is a standard UART interface.
Supports GPS, GLONASS, Galileo, QZSS, and Beidou
Baudrate(

default: 9600bps

)
Start bits(1 bit)
Stop bits(1 bit)
Parity(no)
Product Features
Support single system positioning of BDS/GPS/GLONASS satellite navigation systems, or multi-system joint positioning in any combination
Support D-GNSS differential positioning
Two Lego-compatible holes
Includes
1x GPS Unit
1x Grove Cable
Applications
Vehicle positioning and navigation
Smart law enforcement positioning
Specification
| | |
| --- | --- |
| Resources | Parameter |
| Positioning accuracy | 2.5m |
| Channel | 56 |
| Positioning update frequency | 1-10Hz |
| Maximum height | 1800m |
| Maximum speed | 515m/s |
| Maximum acceleration | <= 4g |
| Sensitivity | Tracking: -162dBm,Capture: -148dBm,Cold start: -146dBm |
| Start Time | Cold start: 35 seconds,Warm start: 32 seconds,Hot start: 1 second |
| Operating temperature | -40°C - 85°C |
| Net weight | 13g |
| Gross weight | 26g |
| Product Size | 48*24*8mm |
| Package Size | 67*53*12mm |
| | |
| --- | --- |
| Resources | Parameter |
| | |
| Air pressure measurement range | 300 - 1100 hPa(+9000m ~ -500m) |
| Relative accuracy | 0.12hPa |
| Absolute accuracy | 1hPa |
| Temperature measurement range | -40 ~ +85°C |
| Temperature resolution | 0.01°C |
| Pressure resolution | 0.16Pa |
| Temperature coefficient offset | 1.5 Pa/K(12.6 cm/K) |
| Current consumption | 2.7μA @ 1 Hz sampling rate |
| Voltage | 1.71V - 3.6V |
| Communication protocol | I2C:0x76 |
| Net Weight | 8g |
| Gross Weight | 21g |
| Produce Size | 24*24*13mm |
| Package Size | 35*36*18mm |