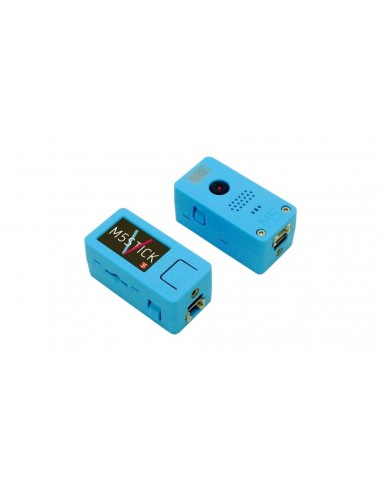  
M5StickV K210 AI Camera (Without Wifi) (OV7740)
M5Stack recently launched the new AIoT(AI+IoT) Camera powered by Kendryte K210 -an edge computing system-on-chip(SoC) with dual-core 64bit RISC-V CPU and advanced neural network processor..

M5StickV AI Camera possesses machine vision capabilities, equips OmniVision OV7740 image sensor, adopts OmniPixel®3-HS technology, provides optimum low light sensitivity, supports various vision identification capabilities. (e.g. Real-time acquisition of the size, type and coordinates of the detected target )

It is able to perform convolutional neural network calculations at low power consumption, so M5StickV will be a good zero-threshold machine vision embedded solution. It is in support with MicroPython, which makes your code to be more concise when you use M5stick-V for programming. 
Product Features
Dual-Core 64-bit RISC-V RV64IMAFDC (RV64GC) CPU / 400Mhz(Normal)
Dual Independent Double Precision FPU
Neural Network Processor(KPU) / 0.8Tops
Field-Programmable IO Array (FPIOA)
Dual hardware 512-point 16bit Complex FFT
SPI, I2C, UART, I2S, RTC, PWM, Timer Support
AES, SHA256 Accelerator
Direct Memory Access Controller (DMAC)
Micropython Support
Firmware encryption support
Case Material: PC + ABS
Include
1x M5StickV
1x USB Type-C(100cm)
1x Bracket
1x HEX KEY
Applications
Face recognition/detection
Object detection/classification
Obtaining size and coordinates of the target in real-time
Obtaining the type of detected target in real-time
Shape recognition
Video/Display
Game simulator
Specification
| Resources | Parameter |
| --- | --- |
| Kendryte K210 | Dual core 64-bit RISC-V RV64IMAFDC (RV64GC) CPU / 400Mhz(Normal) |
| SRAM | 8MiB |
| Flash | 16M |
| Power input | 5V @ 500mA |
| KPU Parameter size of neural network | 5.5MiB - 5.9MiB |
| Port | TypeC x 1, GROVE(I2C+I/0+UART) x 1 |
| RGB LED | RGBW x 1 |
| Button | Custom button x 2 |
| IPS screen | 1.14 TFT, 135*240, ST7789 |
| Camera | OV7740(30W pixels) |
| FOV | 55deg |
| PMU | AXP192 |
| Battery | 200mAh |
| External storage | TF-card(microSD) |
| MEMS | MPU6886 |
| Net weight | 23g |
| Gross weight | 82g |
| Product Size | 48*24*22mm |
| Package Size | 144*44*43mm |
| Case Material | Plastic ( PC ) |