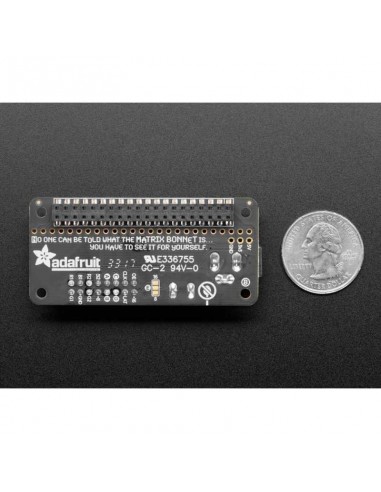  
RGB LED Matrix Panel Drive Board For Raspberry Pi Adafruit
This shield for Raspberry Pi enables you to use rgb led matrixes quite simply using existing softwares.
It even has logic level converter on-board.
Description
You can now create a dazzling display with your Raspberry Pi with the Adafruit RGB Matrix Bonnet. These boards plug into your Pi and makes it super easy to control RGB matrices such as those we stock in the shop and create a colorful scrolling display or mini LED wall with ease.
"Bonnet" boards work on any Raspberry Pi with a 40-pin GPIO header — Zero, Zero W/WH, Model A+, B+, Pi 2, Pi 3, and Pi 4. They do not work with older 26-pin boards like the original Model A or B. Note with the Pi Zero you may need to solder a header on the Pi board; it's normally unpopulated on that model.
We also have an older, HAT version of our RGB Matrix design. The HAT version does not come fully assembled, does not support 1/32-scan matrices, but does come with a real time clock (RTC)
This bonnet will make your matrix projects super easy and avoids wiring complexity. Let me break it down for you:
Simple design - plug in power, plug in IDC cable, run our Python code!
Power protection circuitry - you can plug a 5V 4A wall adapter into the bonnet and it will automatically protect against negative, over or under-voltages! Yay for no accidental destruction of your setup.
Onboard level shifters to convert the RasPi's 3.3V to 5.0V logic for clean and glitch free matrix driving
Fully assembled compact design no soldering required! Plugs onto any Raspberry Pi with a 2x20 connector, and you're ready to glow.
Each order comes with a fully assembled and ready to go bonnet with all parts assembled. RGB Matrix is not included, please check out our fine selection