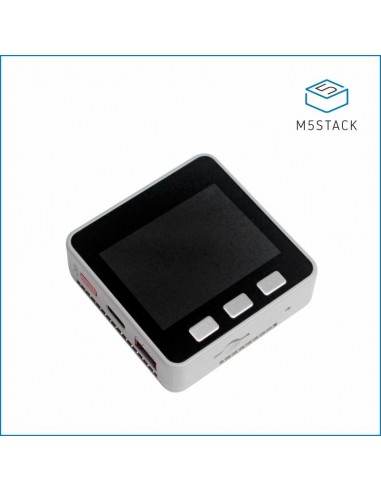  
M5stack ESP32 GRAY Development Kit with 9-Axis Sensor (ESP32 dev module, Wifi, Bluetooth 4, LCD, Battery, etc.)
This is one of the greatest kits available for the ESP32. Gives you a nice polished enclosure, a back module with connectors and a small battery, an usb type c cable and jumper wires. If you need to have a nice one shot product or a polished prototype using wifi and/or bluetooth, this is the kit you need.

With the protoboards (not included) and upcoming modules you can add any features you need as shields.

Oh, did I mention you can program it using the Arduino IDE, PlatformIO, Micropython and others ?
Description
M5Stack GRAY Kit is one of the M5Stack development kit series, which is a upgrade from the Basic kits. In comparison, Gray kit provides an extra IMU sensor, BMM150 + MPU6886. Gray kit is a nice choice for users who just get started or in progress.
With a IMU posture sensor, there are a lot of situations which u can apply this kit to: detecting acceleration, angulation, and trajectory. You can make relative products like sports data collector, 3D remote gesture controller and more base on the above functions.
GRAY is M5 Core device. Its modular, stackable, scalable, and portable device is powered with an ESP-32 core, which makes it open source, low cost, full-function, and easy for developers to handle new product development on all stages include circuit design, PCB design, software, mold design and production.
If you want to explore the fastest way of IoT prototyping, M5Stack development board is the perfect solution. Not like others, M5Stack development board is highly efficient, covered with industrial grade case and ESP32-based development board. It integrates with Wi-Fi & Bluetooth modules and contains a dual-core and 16MB of SPI Flash . Together with 30+ M5Stack stackable modules , 40+ extendable units and different levels of program language, you can create and verify your IoT product in a very short time.
Supportive development platforms and programming languages: Arduino, Blockly language with UIFlow, Micropython. Regardless of what level programming skill you have, M5Stack would guide you in every step of the way to realize your idea as well as to the final productlization.
If you ever played with ESP8266, you would realize that ESP32 is a perfect upgrade out of ESP8266. In comparison, ESP32 has more GPIOs, more analog inputs and two analog outputs, multiple extra peripherals( like a spare UART ). Official developing platform ESP-IDF has transplanted with FreeRTOS. With dual-core and real time OS you can get more organized code and much high speed processor.
Power on/off:
Power on: click the red power button on the left

Power off: Quickly double-click the red power button on the left
Product Features
ESP32-based
Built-in Speaker, Buttons, LCD
TF card slot (Up to 16GB support)
Battery Socket & Lipo Battery
Extendable Pins & Holes
M-Bus Socket & Pins
Development Platform UIFlow, MicroPython, Arduino
Include
1x Gray
10x Femal-male Dupont
1x Type-C USB(20cm)
1x User Manual
1x Sticker
Applications
Internet of things terminal controller
Stem education product
DIY creation
Specification
| | |
| --- | --- |
| Resources | Parameter |
| ESP32 | 240MHz dual core, 600 DMIPS, 520KB SRAM, Wi-Fi, dual mode Bluetooth |
| Flash Memory | 16MB (old: 4MB) |
| Power Input | 5V @ 500mA |
| Port | TypeC x 1, GROVE(I2C+I/0+UART) x 1 |
| IPS Screen | 2 inch, 320x240 Colorful TFT LCD, ILI9342C, max brightness 853nit |
| Speaker | 1W-0928 |
| Button | Custom button x 3 |
| Core Bottom Port | PIN (G1,G2,G3,G16, G17, G18, G19, G21, G22, G23, G25, G26, G35, G36) |
| MEMS | BMM150 + MPU6886 |
| Battery | 110mAh @ 3.7V |
| Antenna | 2.4G 3D Antenna |
| Operating Temperature | 32°F to 104°F ( 0°C to 40°C ) |
| Net weight | 49.2g |
| Gross weight | 93g |
| Product Size | 54 x 54 x 18.9 mm |
| Package Size | 95 x 65 x 25mm |
| Case Material | Plastic ( PC ) |