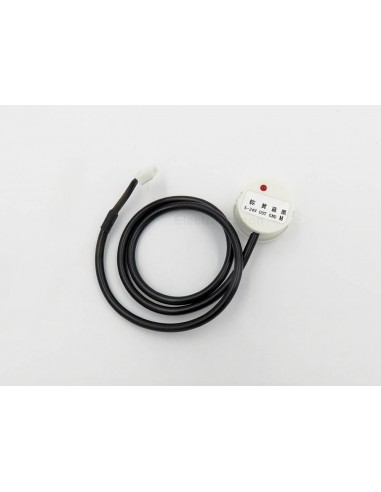  
Non-contact Liquid Level Sensor
Non-contact Liquid Level Sensor
Product Name: Water Level Sensor;
Float Ball Size: 18 x 16mm(D*H);
Screw Thread Diameter: 7.5mm/0.3"
Washered Nut Diameter: 12.5mm/0.49";
Retaining Clip Diameter: 13mm/0.5" * Wired Liquid Water Level Sensor Float Switch for Aquarium
* Max Contact Rating:10W;
* Max Switch Voltage: 100V DC; 
* Max Switch Current: 0.5A; 
* Max Breakdown Voltage: 220V DC; 
* Max Carry Current: 1.0A; 
* Max Contact Resistance: 100mΩ; 
* Temperature Rating: -10 ~ 85 Degree; 
* Float Ball Material: P.P; 
* Float Body Material: Plastic. 
* Body Total Length: 45mm/1.8"; 
* Cable Length: 36cm/14"
* Color: White & Yellow; 
* Weight: 10g; 
* Package Content: 1 x Water Level Sensor
* A float switch is a device used to sense the level of liquid within a tank. 
* The switch may actuate a pump, an indicator, an alarm, or other device.
* Use them with hydroponics, saltwater tank, freshwater tank, gardening, aquariums for power head control, pet bowls, fish tanks, filtration, heating, pumps, ponds, basement alarms, boats, air condition drain pans, pressure washers, carpet cleaning mach, reef aquarium, fluid control, ice machines, coffee pots, marine, automotive, automobiles, tropical fish tanks, evaporator coils, condensation line, in relays, or what ever your project may be. 
* It can be easily converted from normally open to normally close by inverting the float. 
* Note: because the current that the switch can carry is much little(0.5A), you must use a relay or contactor when it is connected by a load, relay and contactor are not included here.