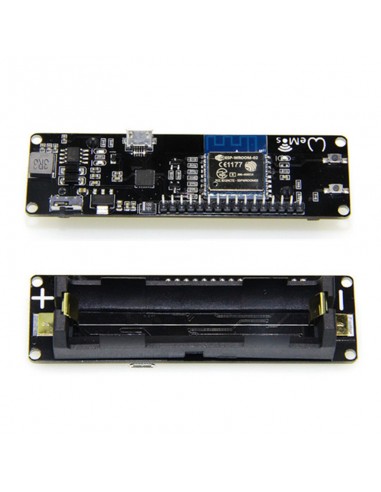  
Esp-Wroom-02 ESP8266 Mini WiFi Nodemcu Module 18650 Battery
Esp-Wroom-02  ESP8266 Mini WiFi Nodemcu Module 18650 Battery
Description:
The development board integrates the ESP8266 18650 battery. A standard LG 3000mah 18650 battery can run for 17 hours.
What is it?
You can call it "WiFi battery". I am going to make it easier to develop ESP8266 ESP8266 project to add 18650 battery.
Why are you doing?
When you do some ESP8266 items you must be hated to add power to power. This miniature board can solve this problem. LG 3000mah 18650 battery can make ESP8266 run for 17 hours or more.
What makes it special?
· With nodemcu.
· 18650 charging system integration.
· Indication LED (green means full of red means · Charging) Charge and work can be done at the same time.
· 1 switch control power supply.
· 1 SMT connector available for sleep mode · 1 additional LED programmable (with gpio16 [do])
· 0.5a charge current
1A output
· Overcharge protection
· Over discharge protection
· 10 digital pin read / write / interrupt / PWM / I2C / line support (except D0)
· 1 analog input to be careful + -.
If the battery is in the wrong direction, the charging chip will be destroyed.
Note:This product does not contain 18650 battery.
Package included:
1*WeMos D1 Esp-Wroom-02 Motherboard Mini-WiFi Nodemcu Module ESP8266 18650 Battery