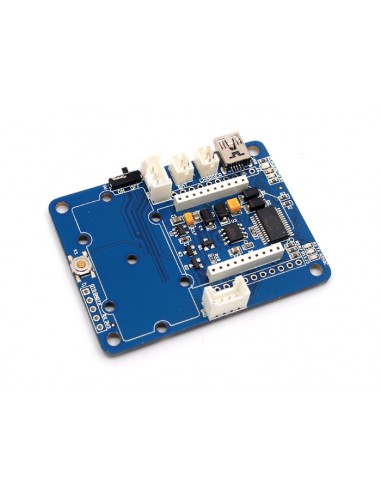  
Grove - XBee Carrier Charging Lipo and solar solaire
16,30 €
Économisez 1,70 €
Charging Lipo and solar XBee Carrier is a Wireless Sensor Network (WSN) base board designed for Bee series and groves. It is primarily suitable for standalone Bee Nodes like RN-171-XV WiFly, RFBee, Wifi Bee. Besides a Bee receptacle, there are also two Grove connectors. The board cab be powered by a lithium battery or through USB cable. You can use a Wireless charger, Solar Panel or the USB cable to charge the battery. The FT232RL chip onboard helps in downloading the program to Bee Module directly.
Bees which do not have onboard programmable systems can only be configured by using on-board FT232RL(USB to UART). Theses Bees are not suitable for standalone applications.
The on-board FT232RL can be used like any other 3.3V USB to UART interface when not connected to any Bee Modules. This is useful for programming a 3.3V MCU through Serial Port.
Features
Bees compatible receptacle
Two grove connector - one for I2C and other for D6,D5
Two grove place holders
On-Board Charge Controller CN3063
On-Board 3.3V LDO Lownoise Micropower Regulator - RT9167A_33PB
On-board FT232RL UBS-UART IC
LEDs for PWR, charge indication and UART transmission.
Power switch
Reset button
2.0mm pitch JST connector for Battery and Charger.
Application Ideas
Wireless Sensor Network with Standalone Bee Node like Wifi Bee.
As a configuration aid for Bees using FT232RL.
Charger for Lithium Ion Cells using on-board charge controller.
As a FT232RL based 3.3v USB-UART.