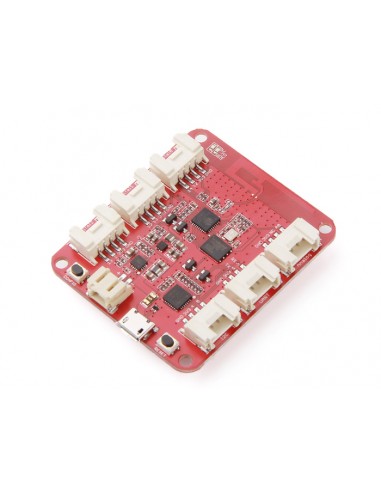  
Wio Link (ESP8266, Grove and Battery charging module)
Wio Link is designed to simplify your IoT development. It is an ESP8266 based open-source Wi-Fi development board to create IoT applications by virtualizing plug-n-play modules to RESTful APIs with mobile APPs.
The traditional methodology of building IoT applications consists of electronic engineering, micro-controller programming, network programming, IoT protocols handling and application development. Every step involves various hardware and software knowledge and challenges.
This time, we define a new way to create IoT applications. 
No hardware programming. No breadboard. No jumper wires. No soldering. 
3 steps. 5 minutes. Build your own IoT applications!
Features
Visual Configuration
OTA (Over-The-Air) Firmware Updates
Plug-n-Play Groves
IFTTT Application
Android & iOS APPs 
RESTful APIs
Specifications
Wi-Fi Network Protocol: 802.11b/g/n 
Wi-Fi Encryption Technologies: WEP/TKIP/AES
Input Voltage:Battery holder: 3.4~4.2V; MICRO USB: 5V 
Output DC Current: 1000mA MAX 
Operating Voltage : 3.3V 
Charge Current: 500mA MAX 
Flash Memory: 4MByte  
Size:  55mm*48mm 
Weight: 26g
CE/FCC/IC Certified
Wio Link * 1
USB cable * 1
Please visit our Wiki page for more information about this product. It will be much appreciated if you can help improve the documents, add more demo codes or tutorials. For technical support, please post your questions to our Forum.