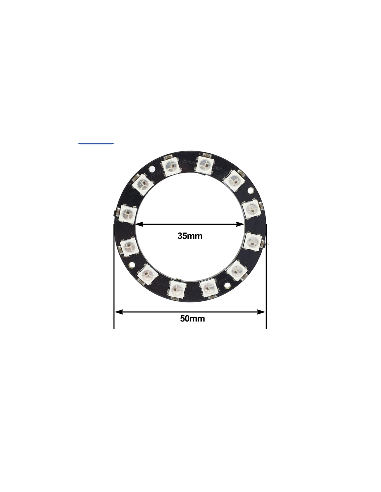  
12 LED WS2812 Ring - (Neopixel compatible, Digital RGB LED with Integrated Drivers)
Digital RGB ring is an intelligent light source consist s of WS2812B RGB LED with Integrated Driver Chip. The control circuit and RGB chip are integrated in a package of 5050 components.
This LED ring is a full-color that external control for each lamp beads. It with high brightness, can achieve effects of full color running water, chasing and scan.
The RGB LED chips with low driving voltage, environmental protection and energy saving, high brightness, scattering angle is large, good consistency, low power, long life and other advantages. The control chip integrated in LED above becoming more simple circuit
The rings are 'chainable' - connect the output pin of one to the input pin of another. Use only one microcontroller pin to control as many as you can chain together!
Features
Voltage: 4-7VDC
Communication interface: Single-wire communication
LED Chip: WS2812B
Inside Diameter :2.3 cm
Outside Diameter: 3.7 cm
Conncetion:
UNO R3 / WS2812
5V / 5V
pin 6 / Data input
GND / GND
Documents: